Conferences and Festivals
INDIGENOUS CHOREOGRAPHERS AT RIVERSIDE
The Indigenous Choreographers at Riverside (ICR) project is an annual event that brings Indigenous dance artists, Indigenous studies scholars, and dance studies scholars to campus to connect, discuss, and share work. We look at ways Indigenous dance, in many diverse forms and locations, engages Indigenous knowledges, and at the import of these articulations. (Photo Credit: Jimmy Lai)
SHOW & PROVE HIP HOP STUDIES CONFERENCE
The Show & Prove Hip Hop Studies Conference Series (S&P) is a biennial conference that is interdisciplinary in practice and international in scope. It is premised on cultivating the necessary and critical dialogues for the development of Hip Hop Studies as a field. As universities adopt classes about Hip Hop and an increasing amount of scholarship gets published, this series was created for those with a vested interest in the culture–including artists and practitioners, students, teachers, scholars, and community activists–to interrogate, complicate, and critically negotiate what it means to bring Hip Hop into the academy. (Photo Credit: Jonathan Godoy)
NOT FESTIVAL
Produced by Professor Luis Lara Malvacias, the NOT FESTIVAL is a kaleidoscopic nomadic multi-disciplinary conceptual object that embraces the ideas of global artistic collaboration and cross-cultural, interdisciplinary attitudes. Through the presentation of the work of international and local artists and scholars, it aims to stir, excite, present, and ask questions about social and political issues, contemporary creation and artistic process.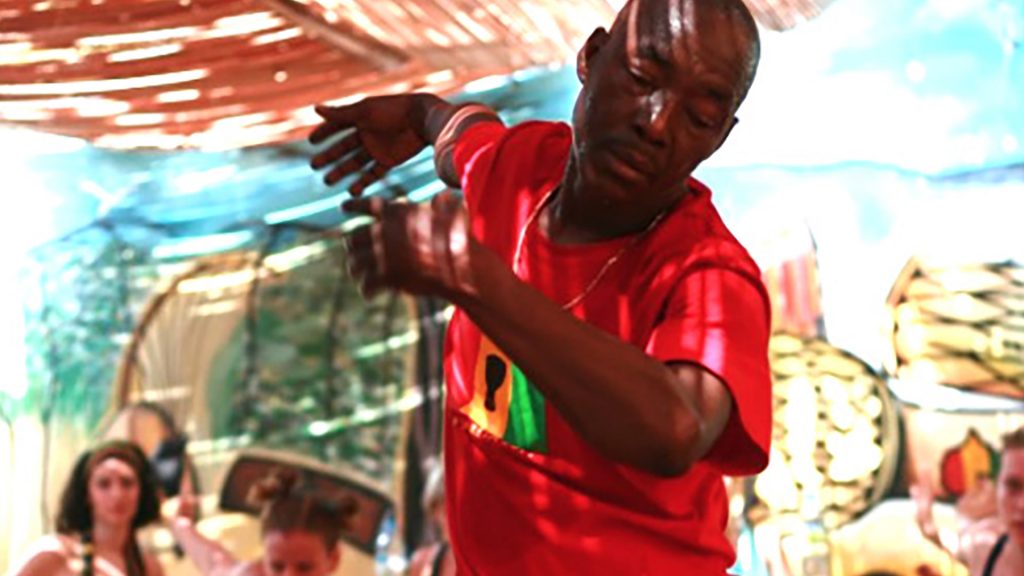 INLAND EMPIRE'S ULTIMATE DOUNDOUNBA FESTIVAL
The Department of Dance is a co-host and co-producer of the Inland Empire's Ultimate Doundounba Festival, a weekend-long festival of West African dance and drumming workshops, performances, lectures, and film screenings. The festival is organized and directed by Dance lecturer Makeda Kumasi in partnership with the Umoja Ensemble of the Inland Empire through WE 3 PRODUCTIONS and "We The People" Cultural Dance Center. Kumasi, who teaches DNCE 66ABC: West African Dance, works with undergraduate and graduate students, staff and various community members to bring the event to campus.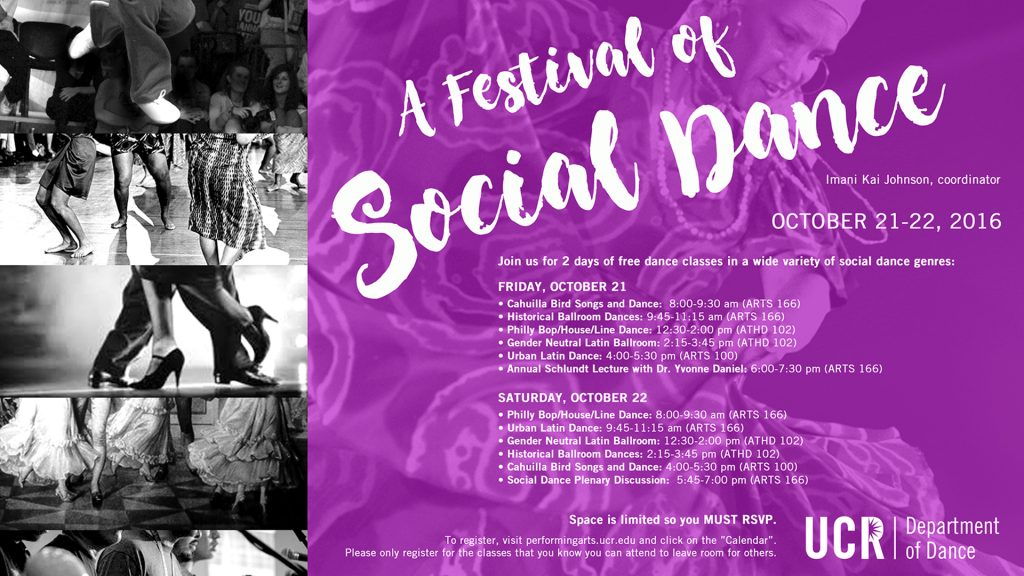 FESTIVAL OF SOCIAL DANCE
Festival of Social Dance is a multi-day event that includes dance workshops, lectures, and roundtable discussions. The workshops represent a range of social dance practices and diversify the kind of dances that fall under the umbrella of social dance. Centering BIPOC teachers, artists and scholars, and genres of dance not otherwise available on campus, the Festival is an excellent opportunity for Dance to extend and expand our curricular, artistic, and cultural offerings.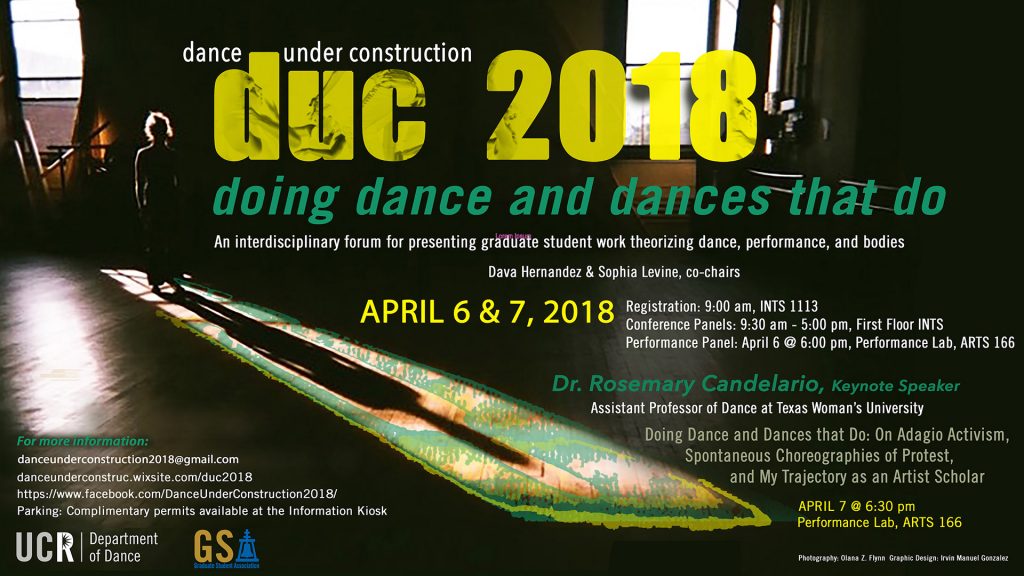 DANCE UNDER CONSTRUCTION
Dance Under Construction (DUC) is an interdisciplinary forum for presenting graduate student work theorizing dance, performance, and the body. It originated as an initiative of the graduate students of UCLA's Department of World Arts and Cultures and has been hosted by various UC campuses. DUC has grown to an annual student-run event for dance and performance scholars, as well as those in related disciplines. Previous conferences have addressed artistic and intellectual exploration of themes such as the Politics of Choreography, Black Aesthetics, Technology and Dance, Globalization, Transnational Bodies, Gender and Sexuality, Dance and Popular culture, and Postcolonialism and Performance.
UCR IS DANCING
UCR is Dancing is the annual presentation of original choreography projects created by students in the Department of Dance. Held at the University Theater in early March, UCR is Dancing is the culmination of five quarters of choreography courses, and it showcases new ideas and experimentation in choreography and movement. UCR is Dancing also includes original choreography and historical dance reconstructions by faculty and professional guest artists. (Photo Credit: Joel Smith)
SPRING FORWARD: NEW DANCES BY EMERGING UCR CHOREOGRAPHERS
Spring Forward is a public showing of undergraduate choreography featuring new dances by the Dance 114B composition class. This low tech, high-risk platform offers Dance majors and minors the opportunity to showcase the various choreographic methods and structures they have been working on throughout the quarter. (Photo Credit: Jonathan Godoy)
4QS – FOURTH QUARTER M.F.A. SHOWINGS
Every fall quarter, second year M.F.A. students share their research in progress. This work reflects a year's worth of course engagement, as well as new inquiries and discoveries made during summer break. 4QS leads students to their M.F.A. final project proposals. (Photo Credit: Sara Bernal)
M.F.A. FINAL PROJECTS
The M.F.A. Final Project/Performance may take shape in multiple ways: an interdisciplinary live -installation, an evening of dances, a digital media project, a series of events over the course of several months, a site-specific work on or off campus, a ritual gathering or protest event, or some other performance in which the student's research is made evident. M.F.A. Final Projects  reflect a strong consideration of their coursework and committee mentorship and are presented every spring quarter. (Photo Credit: Jonathan Godoy)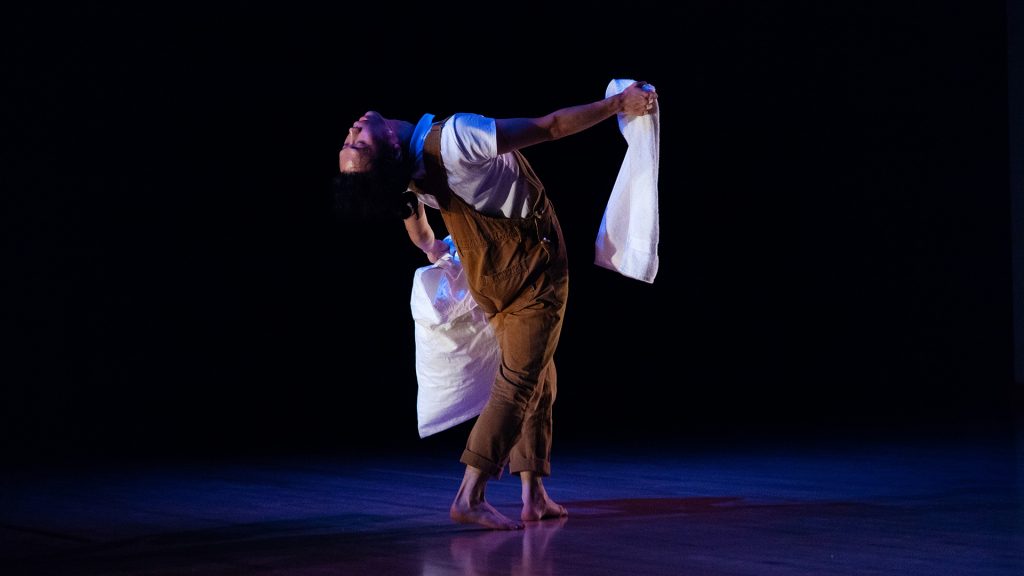 GRADUATE DANCE CONCERT
The Graduate Student Dance Concert is a platform for a wide range of performance and dance-making practices. This event has become a periodic student-run platform for both Ph.D. and M.F.A. students to share their investigations into experimental modes of choreographic research and performance. This co-produced event bolsters dialogue between the M.F.A. and Ph.D. programs, and varied research agendas. (Photo Credit: Jonathan Godoy)
Colloquium and Guest Artists
CHRISTENA LINDBORG SCHLUNDT LECTURE SERIES IN DANCE STUDIES
The Schlundt Lecture was endowed by Christena Lindborg Schlundt, a founding faculty member of UCR and of the Department of Dance.  The fund is to support periodic lectures on Research in Dance History and Theory.
DANCE 280: CURRENT TOPICS IN DANCE RESEARCH (COLLOQUIUM)
Current Topics in Dance Research is an on-going Dance  colloquium course that takes the format of a lecture/demonstration series by established and emerging scholars, performance artists, and dancers on interdisciplinary approaches to dance and the body, invited by the Department of Dance to share their work with the larger academic community of UC Riverside. (Photo Credit: Lily Szeto)
GUEST ARTISTS ENGAGEMENTS
The Department of Dance regularly invites guest artists and scholars to visit our courses to teach workshops and share their research and creative practices. Most of these guest classes are open to Dance students outside of the designated course, and sometimes to folks across campus. Some guests are invited for a mini-residency, with multiple engagements and activities. (Tanner Sebastian)